Email.
Remember how excited you were to receive your very first email?
Contrast that with how excited you were to recently wade through your inbox after being out of the office for a few days.
Some people have even gone so far as to declare email bankruptcy and just deleted all their messages unread and started all over again.
Assuming such a drastic tactic is not an option for you, what can you do?
Reduce the amount of email with JIRA Service Desk

The most common use of email is to ask someone to do something or to resolve a problem. Wouldn't it better to handle these requests in a more structured way?
There was a dramatic dip in email support. Previously we were doing 95% email support. Now it's only 15%.

— Alex Stillings, IT manager, Twitter
With Atlassian's JIRA Service Desk, Twitter was able to dramatically reduce the amount of email their internal IT support team had to deal with. A great result.
JIRA Service Desk is a beautifully simple service desk that makes asking for and providing IT support and customer service easy. Built on top of Atlassian's JIRA, it delivers an effortless service experience, adapts to your needs, and promises set up time and pricing at a fraction of competitors. In combination with Atlassian Confluence, it can help customers help themselves with knowledge base articles, therefore reducing support load even further.
JIRA Service Desk is PinkVERIFY™ ITIL certified for the major service management processes IT teams rely on. ITIL is a set of industry best practices for IT service management that were initially developed by the UK government but are now regarded as industry best practice. This means that your project can get started quickly based on these best practices but with the flexibility to adapt to your specific requirements.
We are an Atlassian Expert partner and have ITIL-certified staff who can get your JIRA Service Desk project up and running quickly and delivering benefits to your organization. Contact us and let us talk about your requirements.
Handle remaining email better with catWorkX

But what about the remaining email that you can not transfer to JIRA Service Desk?
One of the great things about the Atlassian ecosystem is the Marketplace. Full of high quality add-ons for the Atlassian products, there are usually solutions available for most problems.
There are several add-ons that address the email problem but in our opinion the best one, and the one we use ourselves, is Outlook Integration for JIRA by catWorkX GmbH. This JIRA Server add-on includes a plugin to create issues directly from your Microsoft Outlook client. Additionally, you can add comments to already existing issues.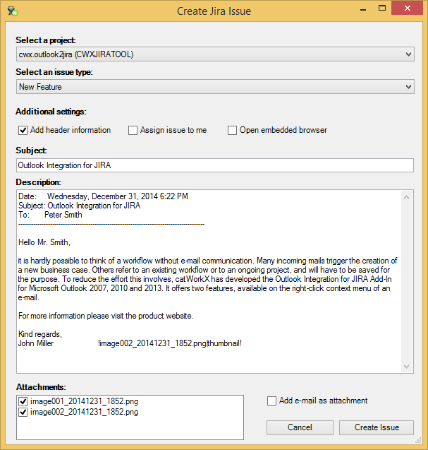 Instead of having to wade through your inbox to find your tasks they can now be managed within JIRA, alongside all your other work items.
We found this add-on the simplest to install, others seemed to have a very large installer for the Outlook plugin and/or many prerequisites, and the option to include email header information in the JIRA comments alongside the email text is a real winner.
One little tip: To make the plugin buttons a little more accessible than the default location on the Outlook ribbon add them to the Outlook quick access toolbar:
Right click in the grey area to the right of toolbar on the Home tab.
Click on the "Customize Quick Access Toolbar" item in the menu.
From the "Choose commands from" combo box select "JIRA".
Move across "Create JIRA Issue" and "Add as Comment".
Press OK.
The icons for the two options should now be displayed at the very top left of the Outlook UI as shown here.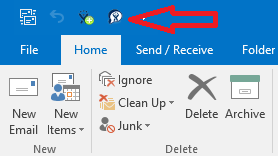 A simply great example of an add-on. Try it free from the Marketplace for 30 days.