Digital Work Management
Asana - a simple, flexible way to manage work for business Adopting Asana? BDQ will help.
Asana makes work management easy. It is used by thousands of organisations such as Tesco, Sky and the NHS. However - team based products like Asana need team based adoption. This is where BDQ can help.
BDQ helps our customers solve work management challenges by providing solutions that have meaningful management reporting, and which are easy for staff to use and adopt.
These solutions range from business work management through to service desks and software development project management.
Asana itself is easy for non technical users to adopt, and it provides powerful visibility for managers. It is flexible, and ideal for managing business tasks of all types, and it helps to visualise deadlines and goals.
It can be used to manage goals, portfolios of projects, start dates, end dates, task estimates, forecasts to finish and team capacity planning.
However, these benefits can only realised when it is adopted by everyone who needs to do or manage work.
We help with all aspects of adoption, including:
Software licensing

Configuration and delivery

Training

Migration from existing systems

Integration
Return on Investment
There is significant benefit to improving efficiency with a streamlined work management tool. For a small organisation of 100 people, even a small efficiency saving of 5% can yield an high ROI. But don't take our word for it, use our Asana ROI calculator and see for yourself what kind of return on investment you could get:
* Price not guaranteed and is subject to change
Get in touch to start your free trial!
Or continue reading for information on the benefits of buying through a certified Asana Solutions partner like BDQ.
Examples of what BDQ can do for you:
We can advise you on the appropriate licenses for your business requirements and resell the software at the same or less. We are on the G-Cloud, and have experience with organisations of all sizes.

We can deliver whole projects such as an initial solution - e.g. migrating away from a spreadsheet driven approach.

We can help you with a "reboot" of an existing implementation that could do with improvement such as reporting enhancements.

We can provide banks of enhancement hours that you can use on demand to enhance and maintain your solution, or to drive adoption
Why use a certified partner like BDQ to help roll out the product, instead of doing it yourself?
To get the most out of any team based solution, our experience is that initial configuration and training is best done by experienced staff, so that you set off on the right foot.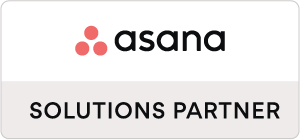 We also find that staff in most companies are busy doing their regular "day jobs". There is not the time or capacity to learn a new product, review what is currently in place, and identify how to configure, QA, roll-out train and adopt. A quick online evaluation is not the same as a rollout and adoption project.
BDQ has experience of rolling out products from small teams to thousands of users, and making sure that they are adopted by both users and management.
We will help you set up Asana and train your teams so they can use Asana immediately, and give you the foundations which you can build upon.


We also have a huge amount of credibility and experience with digital work management solutions. But don't take our word for it, read what our customers have to say about working with us:


"BDQ were really hands on. Their consultant was brilliant, and really knew his stuff."
RHOD WILLIAMS
| HEAD OF IT PLANNING | THE WINE SOCIETY
"Everything has worked flawlessly since go live - we've not needed to raise a single incident with BDQ!"
TOM CAHALAN
| MANAGING DIRECTOR | AURORA COMMERCE
"We worked well together with BDQ. There wasn't anything that we wanted, that couldn't be delivered."
JAMES MILLARD
| OPERATIONS MANAGER | EMR SETTLEMENT LTD
Crown Commercial Service

Supplier

We can supply software and services to the UK public sector via G-Cloud 13. We have large public sector customers and can supply with standard VAT invoicing on NET30 terms, in GBP or USD as required.
We discuss your requirements and pain points from the very beginning. When we create a proposal for you, we will go through a menu of options, and then implement Asana using Agile techniques using our AIM methodology. We will work with the relevant stakeholders and people from your teams, taking up the minimum amount of their time, and using short remote workshops to focus on your business and process requirements. We will use this information to get to a prototype as fast as possible.
The outcome is a painless, turnkey solution which meets your requirements.

We use Asana with you to transparently manage tasks and documentation.

We work with your key staff to focus on pain points and requirements using remote sessions, recorded where necessary.

We prioritise prototypes so that you can see something tangible as soon as possible.

We run remote testing workshops to assist with user acceptance testing and handover.
BDQ's Engagement Process is an Agile, transparent method of delivering changes for clients. We use an Accelerated Implementation Methodology (AIM), which can be broken down into the following steps: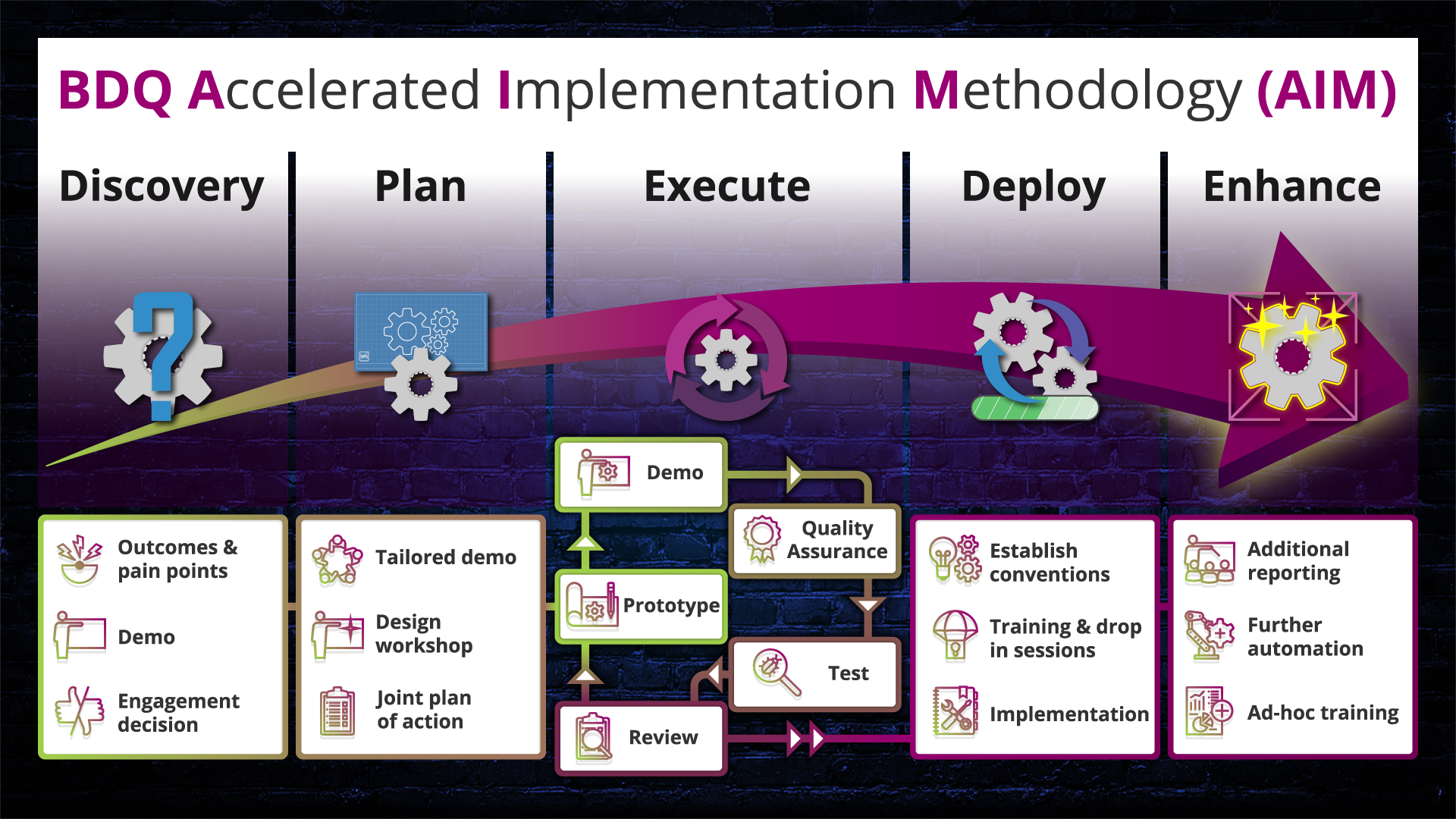 We Discover what it is you need. Jointly Plan how the project is to be delivered. Then Execute the plan, iterating through prototypes until the solution is finalised. Deployment includes training and implementation. We then we look to Enhance the solution, to ensure you are getting the most from your investment. At BDQ, we A.I.M. to please!
Well known brands using Asana












Short Asana demo
Asana is an easy way for teams to know who's doing what by when. In this Asana demo, get a tour of the product and learn more about:
Product basics

Team collaboration

Projects and tasks

Team conversations

... And more