- Case Study -
Betway
"We have a very happy and really good relationship with BDQ – we see this as a partnership stretching into the future."
Mark Harmon | Head of IT Service Delivery, Betway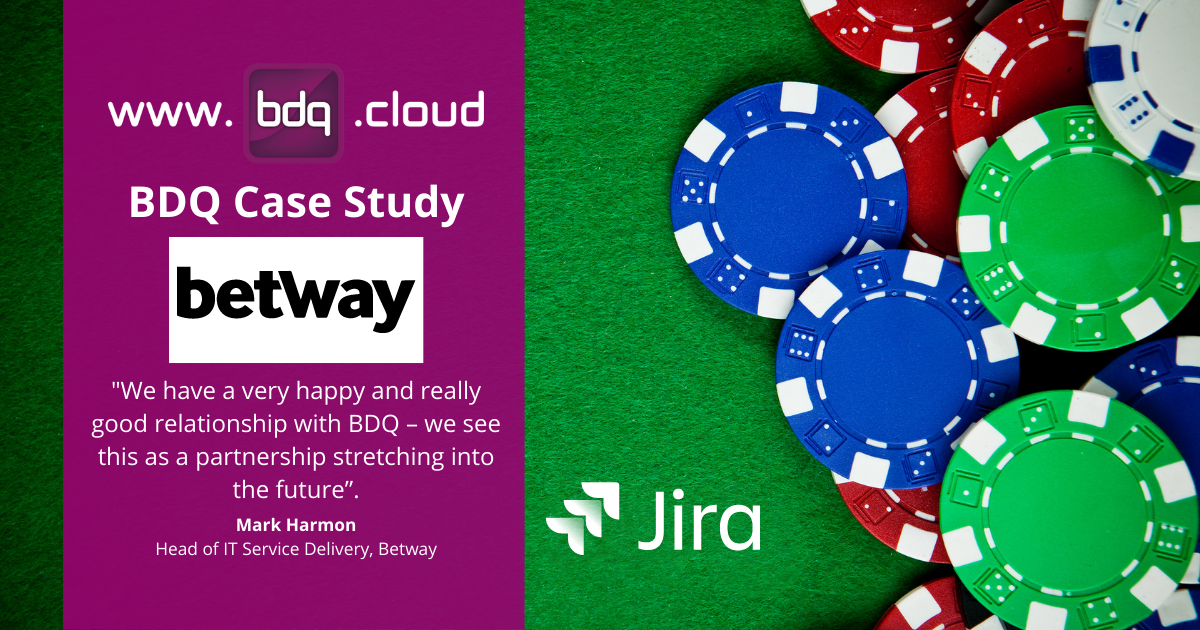 BDQ helps Betway increase helpdesk
efficiency and provide seamless service for users
How BDQ worked with Betway to implement Jira Service Desk and provide an easy to use, reliable and proven IT Service Management system which can grow and adapt to the ever-changing needs of a rapidly expanding and fast-paced business
Betway's requirements
Increased automation
Improved reporting
Management visibility into incidents and requests
Flexible workflows, tailored to the needs of the business
Self-service capability for users to resolve issues quickly and easily
A cost-efficient solution with no long-term tie-in to expensive software licenses
BDQ's response
Increased automation, preventing duplicate emails and old tickets building up, allowing greater focus for staff
Improved management and visibility across all support teams
Greatly improved change management, reducing the number of open items by 95%
Tailored SLAs and priorities
Smooth integration and reporting between the support and development teams, leading to improved collaboration and problem swarming
Easy to use self-service user experience, with smooth-running email support as additional option
A system which can be administered by Betway's in-house staff as and when required
Background
Maintaining and sustaining growth brings its own challenges for any company and Betway, with over 400 employees at its London offices alone and additional staff overseas, is no different. Mark Harmon, Head of IT Service Delivery, is all too aware that effective IT support and collaboration between staff is vital in a high performance, fast-paced company such as Betway.
It was evident that the existing IT Service Management system was slow and cumbersome, and was holding back the performance of his support team. "It was getting ridiculous" Mark sighs. "We'd be closing 3 or 4 tickets just for the one job". A lack of management reporting offered no visibility into incidents and requests, providing no ability to prioritise tickets and hampering collaboration across teams. Workflows were inflexible, automating procedures was difficult and there was no real self-service capability for users. A solution was needed that would reduce the high administrative overheads Mark was facing, improve efficiency and drive up customer service standards.
The solution
Betway reviewed the ITSM market and after close research, identified Jira Service Desk as the preferred product. A key requirement was to bring the development team & operations staff closer together to work more effectively. Betway's development teams were already using Jira software to manage their projects - a definite plus that worked in Service Desk's favour during the decision-making process. Mark needed assurance that the new ITSM solution would be able to integrate comfortably with the existing development systems, something that could not be demonstrated by the competing ITSM products.
Aside from the obvious consideration of cost-efficiency, the solution had to be flexible and robust enough to grow alongside the rapidly expanding company, and have the potential to be used by other departments for internal services. It was also important that the new system could be managed and configured by Betway's own staff on an on-going basis.
Mark is very pleased indeed that he decided to go with Jira Service Desk. As he neatly puts it, "Jira Service Desk does everything its largest competitors do, but at a quarter of the price. And we can administer it ourselves, we're not reliant on expensive external staff when we want to make changes".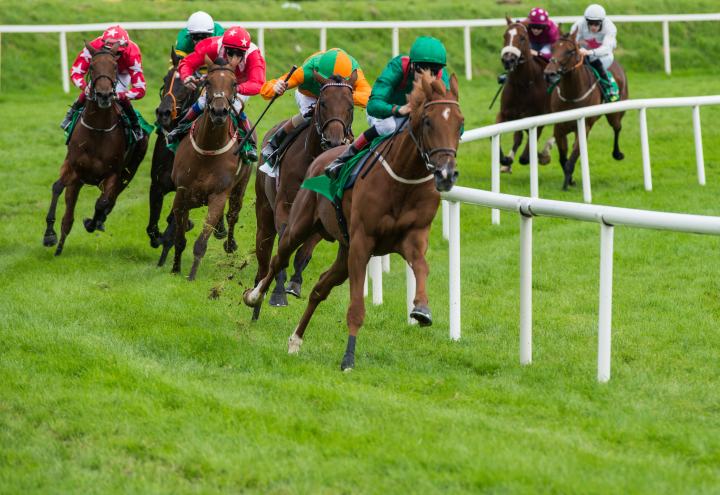 The benefits
After several months of use, Betway is fully reaping the benefits that Jira Service Desk brings.
Developers can now collaborate on support tickets and support engineers can quickly create development issues after initial triage, something that was not possible before due to there being no visibility between incidents and requests. Support teams now have insight into items which have development dependencies, allowing improved customer feedback and the ability to escalate issues where necessary – all resulting in more effective partnership working between the support and development teams.
Better management and visibility across all teams means trends can be spotted quickly and workloads planned, simplifying processes and allowing engineers to focus their efforts where it really matters, making life easier for all support staff.
For Mark, the biggest impact for the company has been felt in Change Management. "Automation has made the process so slick, it's made a huge difference for us" he enthuses. "Previously we'd have 30-40 changes waiting at any one time. Now we have whittled that down to literally one or two. It's been the biggest plus point for us. "
Users too are seeing the rewards. They now have an easy to use self-service web portal, allowing them to find solutions to their problems fast. With fewer email requests being submitted, this in turn has the benefit of freeing up time for support staff to focus their attention in other areas as required. For those users who still rely on email, there is now a vastly improved, smooth-running email request system with no duplicate tickets.
Working with BDQ meant the transition for Betway has been a smooth and positive experience for everyone. Automation, tailored SLAs and priorities means that users and support staff are now all on the same page with the most urgent and important work, resulting in increased customer satisfaction all round. "It was no great pain to switch over" says Mark, clearly relieved at the memory. "We have a very happy and really good relationship with BDQ – we see this as a partnership stretching into the future".
With the support of BDQ every step of the way and the benefits of Jira Service Desk being felt throughout, Betway is definitely on to a sure-thing.
Why BDQ?
Betway had already performed requirements analysis and experimentation on a test Cloud environment but Mark knew that he wanted to work with an experienced Atlassian Solution Partner who could provide implementation expertise, follow best practice and ultimately be responsible for ensuring the ROI would be realised as quickly as possible. BDQ was the perfect fit.
Demonstrating in-depth technical knowledge and proficiency in Jira and Jira Service Desk from the outset, BDQ provided Mark with the confidence the new system would deliver. BDQ was also able to meet Mark's desire for 'proper' on-site support, providing comprehensive training to Betway's in-house team to ensure staff could administer and make changes to the system themselves going forward.
In addition to adhering to best practices when installing and configuring the on-premises Server version of Jira Service Desk, BDQ was quick to provide technical support for any other queries that arose throughout the project to ensure the solution was delivered to Mark's full satisfaction. The friendly and accommodating nature of the BDQ staff was also a big plus for Mark. Betway could be sure that the same individuals were always easy to get hold of and talk to, making resolutions fast and ensuring a consistent approach.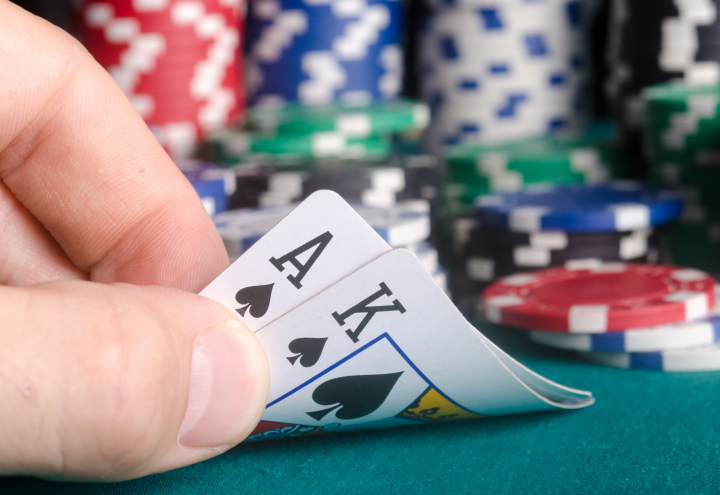 About Betway
London-based firm Betway delivers world-class gaming and betting services to over 2 million customers worldwide. Supporting high-profile sports teams and events including professional online gaming league esports ESL Pro League, the World Cup of Darts, West Ham Football Club, the British Snooker Championship and the prestigious 2017 Cheltenham Gold Cup, its advertising spend of over €100 million this year makes it one of UK's largest sponsorship providers.
Since 2006, Betway has enjoyed substantial growth and relies on the latest technology to provide a safe, secure, innovative and interactive gaming experience for its customers.