- Case Study -
wdPro Global
"wdPro Global are cutting edge independent test management specialists for global SaaS projects. We wanted to provide our customers with a platform configured specifically for SaaS Projects.
Jira and Zephyr were obvious choices to manage these large projects for our clients since they provide tried and proven test and issue tracking which all parties involved in a global implementation can access."
Laurence Postgate | Founding Partner, wdPro Global.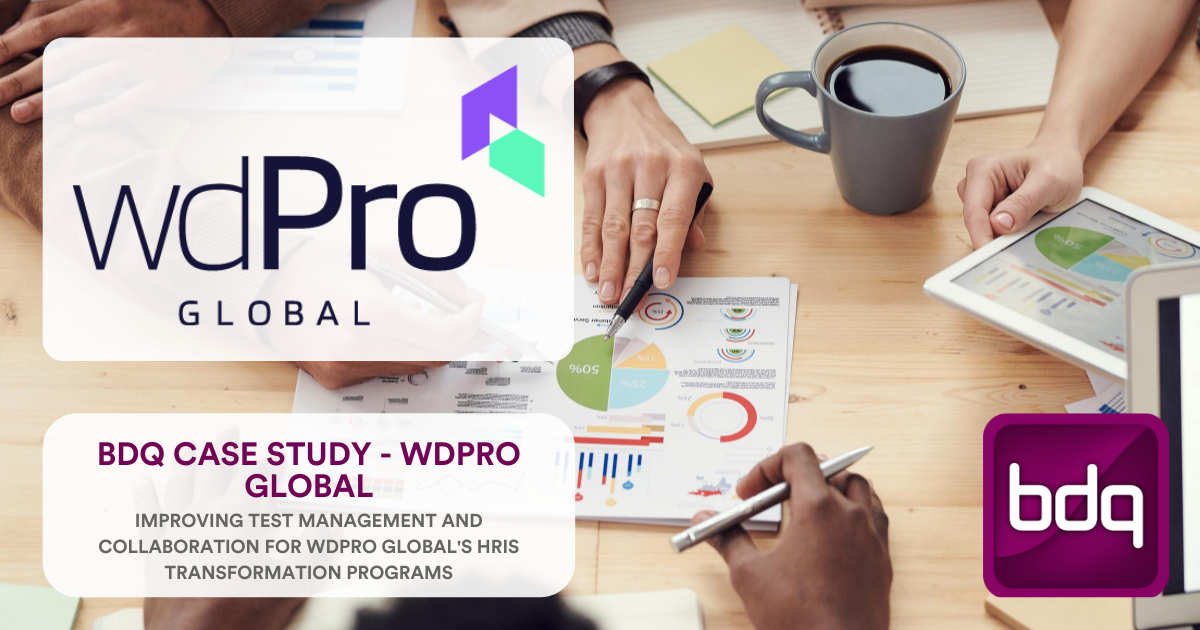 Improving test management & collaboration for wdPro Global's HRIS transformation programs
Background
wdPro Global wanted to develop a platform which would help them manage work transparently and effectively with their customers and other third parties involved in testing. The global Workday implementations that they manage are very sophisticated projects, with multiple phases, integrations and processes, and involve teams of people from around the globe. Collaboration between all these people is critical, as is visibility into all the work that needs to be done.
wdPro Global are familiar with the Atlassian product suite but wanted to use it in a more advanced way, keeping workflows, and permission schemes consistent, so they could use their proven process consistently. wdPro Global knew that BDQ uses the Atlassian products to manage engagements with clients, and reached out for some advice.
Solution
BDQ worked with wdPro to understand the nature of their engagements, and what the expectations of their clients were. BDQ generally work in an agile way with clients, where we set up a shared confluence space for the documentation, and sprint boards so that the whole team are clear on what the scope of the work is, and who is currently working one something. We have Jira configured with reference projects, which are copied, so we have consistent workflows and reporting across all our client work.
We thought a similar approach might work for wdPro, but with the workflows, and issue types tweaked for their particular situation. For example, wdPro Global finds that the long-running nature of these projects doesn't fit so well into Agile and Sprints, so Kanban boards provided a more suitable approach instead. wdPro Global are very familiar with Zephyr for Jira, and test management is an essential part of their projects, so using this as part of the solution was an easy decision.
Outcome
"Working with BDQ was straightforward. I've worked with them before with other clients, where they did Zephyr training and Jira Service Desk implementations, and I'd seen the way that they used Jira to collaborate with clients.

They were very helpful in explaining how we could use the products at wdPro Global to implement a re-usable and consistent process that we can apply to the very large and complex projects that we execute. In addition, being able to demonstrate to clients the customized solution with all the Workday functional areas and issue types already in place has helped hugely in clients adopting the solution."
Laurence Postgate | Founding Partner, wdPro Global. About wdPro Global
wdPro Global are cutting edge independent test management specialists in the Software as a Service (SaaS) arena. They bind together your transformation program by deploying their talent, tools and methods; empowering your team to become self-sufficient in delivering solutions and services which underwrite the evolution of your organisation.