Last week was Atlassian's Summit conference in San Jose, California; three very full days of the latest announcements, product news and training from the Australian software giant.
One refreshing thing about the conference is Atlassian's passion about learning from customers too. They definitely do not treat this as "broadcast only" event and they genuinely seem driven to learn about the needs of customers and how to unleash the potential in every team.
Like all the previous Atlassian events that we have attended, Summit was excellently organised and delivered on the expectations that we had as British Airways carried us across the Atlantic.
Thank you to all the attendees that came to our booth. We hope that our swag comes in useful! Pictured here is our Director of Operations, Alan Wenden with one our popular tote bags.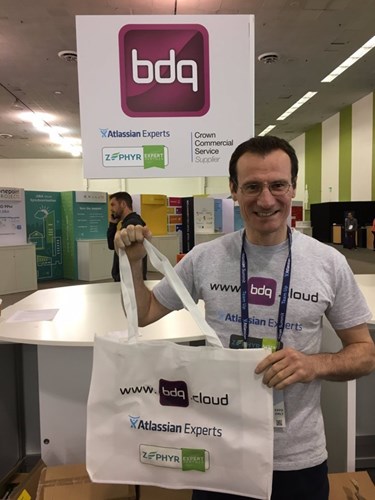 The lucky winner of the iPad Mini giveaway was Marilyn DeLuca, pictured here with our CEO Chris Bland: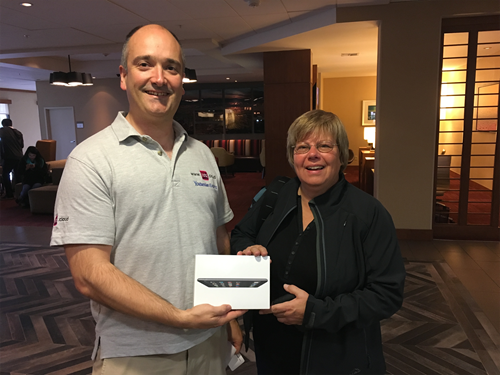 Below we have a short round up of product news from Summit but this barely touches the surface of the useful information presented. Watch this space for future posts that go into more detail about the announcements from Atlassian and other vendors who produce software for the Atlassian Marketplace eco-system.
JIRA Software
New card design in boards - easier to read and look great.

Kanban backlogs - Move backlog cards from boards into a dedicated backlog. More space on the board.

Side panel view on boards and backlogs allows editing any attribute of an issue.

The new version of JIRA Portfolio has a Live Plans feature that are easy to set up and always up to date.
JIRA Mobile for Cloud
Get out of office with mobile apps.

Task and boards are available with drag and drop cards.

Was already available on iOS but available now on Android.
Bitbucket
5 million users are now using Bitbucket in the Cloud.

Git Large File support

Chunking for faster uploads. Initial upload sends chunks to Bitbucket in parallel to speed up the transfer. Subsequently just changed parts are uploaded. This can result in 10x speed increase for large files.

Great file preview support for various different graphics, video, audio and document formats.
Confluence
100 million pages written in Confluence. A truly incredible statistic.

New Spaces experience with a new, customizable overview page.

Drag and drop reordering/filing of pages.

Collaborative editing. Also on Server.

Lots of other updates.
Confluence mobile for Cloud
Sync with mobile app means that recently accessed pages are consistent across web and mobile.

Seamless links experience on mobile. Clicking on a JIRA link in Confluence mobile opens the JIRA app and vice versa.

iOS and Android support this week.
JIRA Service Desk
In just two years JIRA Service Desk has grown from nothing to supporting 20,000 organisations around the world.

ITIL certified. 4 major processes: service request, incident, problem and change.

Webhooks - automate actions in other systems.

Customer organizations

Custom notification templates.

Knowledge base improvements.

JIRA Service Connect APIs - REST, Webhooks, UI extensions.
StatusPage
StatusPage is a new acquisition for Atlassian. Users can create a rich web based status page for your applications or web services.

Users can sign up to get events published to them, reducing email load, and keeping customers informed

Pages can be either public and private. Not only can vendors keep customers informed, but companies can keep their staff up to date on internal business systems, all in one place

Status information can be shown in JIRA Service Desk, helping to deflect requests when there are known incidents.
HipChat
Rebuilt integrations with JIRA, Confluence, BitBucket and StatusPage.

Simple video chatting within a team.

Screen sharing

Building to support 1 billion messages a day to support teams of all sizes.
Data center
Native support for Amazon Web Services. Deploy an entire data center cluster including servers, database and load balancer in literally in just a few minutes.

SAML 2.0 support - single sign in across the whole Atlassian product set.

Performance Testing Toolkit for bitbucket data center. How will your application perform in your infrastructure?

Zero downtime upgrades

HipChat joins data center
Ecosystem
150 million dollars revenue during

10,000+ developers around the world.

2,000+ add-ons and integrations in the marketplace

New search and filtering capabilities to make them even more discoverable.
New home page
This is an upcoming feature that shows all your work across all the tools: JIRA, Confluence, etc.

Learns and adapts to what you want to look at and makes intelligent suggestions.

Jump to applications.

"One place to help you create, resume and identify your work".
For more details on these announcements see the keynote "Innovation in Team Collaboration" with Atlassian co-CEO Mike Cannon-Brookes.
One quote from the keynote that really resonated with us was: "It is a true honour to be invited into your companies to help unleash the potential of your teams every single day". That sums up for us how we feel about working with our customers and partners.
One last announcement from Atlassian was that they are going to have two Summits next year, with the additional one being held in Europe. The first European Summit will be held in Barcelona, May 2nd - 4th 2017. Summit without the jet lag. Can't wait.