BDQ are proud to announce that we have been accepted into G-Cloud 10, the latest version of the UK Government G-Cloud framework within the Digital Marketplace. This continues our involvement from the earlier G-Cloud 8 and G-Cloud 9 iterations.
G-Cloud is one of a series of framework agreements that simplifies procurement of IT solutions and services by public-sector bodies within the UK. BDQ are also suppliers on the Digital Outcomes and Specialists 2 framework and will be applying for version 3 once applications open sometime this month.
The Digital Marketplace, run by the Crown Commercial Service, is a public searchable database of services offered by suppliers within the framework.
BDQ's listings on the Digital Marketplace
We offer 5 services within the cloud software and cloud support lots, or categories, within the framework. These broad services include:
Hosted versions of Atlassian's Jira task management, Confluence documentation collaboration, and Jira Service Desk ITSM products.
Licensing and software consultancy around Atlassian's products.
A hosted platform to facilitate DevOps software developments processes based on the Atlassian Stack, alongside Zephyr, Sonatype, Dynatrace and Servicetrace.
Services to enable digital transformation to Cloud based solutions.
Training courses to enable buyers to maximise their investment in these products and reduce time to ROI.
Have a project where we could help? Please get in touch and let us talk about what you need.

Last week's Public Sector Show at ExCeL was a great opportunity to talk to public sector buyers. Like last year, we had some very interesting conversations with attendees about their project needs. We look forward to continuing those conversations and hopefully working with those attendees to deliver solutions to their issues, perhaps under G-Cloud 10.
Several different themes came up repeatedly during the day. Attendees were certainly interested in collaboration and DevOps but our solutions to Robot Process Automation were also of interest.
Speaking of collaboration, we noticed this prominent sign with a quote from Henry Ford. We couldn't agree more.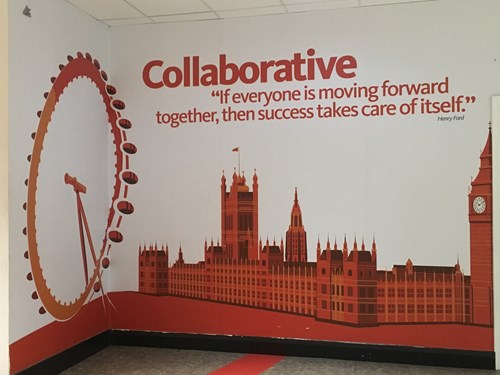 We would like to thank everyone who visited us at the show and GovNet Exhibitions for a very well organised event.