This week at their annual US Summit conference, Atlassian have a number of important announcements. We will be covering these development in future blog posts but this initial one is going to focus on Stride, Atlassian's very exciting new collaboration product.
Talk is cheap, time is money – and talk takes time. It's an all too familiar problem in today's work place. Keeping track of latest developments means staying constantly connected in a seemingly never-ending whirl of chat discussions, emails and comment threads. Someone said something great but – who was it? And just where is that comment? In fact, perhaps you'd best call another meeting to go back and verify what exactly was agreed and who signed up for what.
It's all too easy to lose precious time not just scrolling back over chat but also dealing with notifications and alerts as they ping in to your inbox, forcing you to work harder and faster simply to keep up – and risk losing sight of the really important stuff at the same time.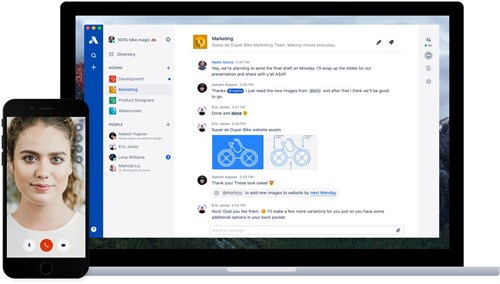 Atlassian's new solution to modern day office communications is Stride. Unveiled on Tuesday, it's certainly got us all buzzing here at Summit. This complete team communication system enables your employees to cut through conventional chat room clutter, stop scrolling and focus on the things that matter: results.
Compared with simple messaging apps Stride's strengths lie in three key areas, developed to help teams boost their productivity:
Meetings
Atlassian have put the human touch into Stride. Avatars and fun emojis create an engaging environment with a friendly, welcoming look and feel. And a text editor means you can express your thoughts precisely as you intend using italics, underlining or bold – details which help understanding and let you get to the heart of the matter quickly.
Stride recognises that sometimes there is no substitute for a face-to-face conversation when it comes to getting things done. With the Meetings feature, you can take conversations away from the keyboard and bring all the people that matter together with built-in voice and video meetings, including group videos or even a simple voice call to someone's phone. With one click, team members are notified instantly and have the benefit of the full context of the conversation they were just having to hand. And, for situations where words alone don't quite cut it, you can even share files and screens. Stride works across all devices, even remotely, enabling informed decisions to be made fast wherever you are.
Actions and Decisions
Although group chat lends itself well to a free-flowing exchange of ideas, decision and action points often get overlooked, resulting in wasted time looping back round an idea or scrolling back through the conversation to find out what action was agreed. Stride allows team members to capture important points and mark them as Actions or Decisions as they arise. Instead of risking being lost in the body of the message board, the various action points and agreements are listed separately on a sidebar and can be accessed any time. And if you need, you can jump back to the conversational context of any past decision to refresh your memory as to how a particular outcome was reached.
Focus Mode
Imagine if you could pause your messages, turn off the constant stream of notifications, pings, alerts and just...concentrate. Really focus on that important task at hand. With Stride you can. Focus Mode mutes all your notifications and incoming messages with just one click. You can even set your status to let your team know what you are working on and how long you've ring-fenced for the task so they can't disturb your creative flow. And, once you've got the job done and are back, Stride will provide a summary of your most important messages, as well as Actions and Decisions. This handy feature means you can fully immerse yourself in your work whilst you are away without the distraction of worrying about missing out – and be one step closer to getting things done.
We're excited by Stride and what it can do. If you want to know more, click here or contact us to get into your Stride and hit the deck running.