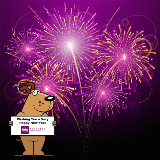 As we come to the end of 2015 we would like to take this opportunity to thank our customers and partners and wish you all a very happy new year.

It has been another great year for Business Data Quality with the introduction of our add-on DataQA for JIRA for Atlassian's JIRA. This add-on brings Atlassian's industry leading issue management technology together with our own SQL based rules engine to allow users to manage data defects alongside their other IT issues.

Make a new year's resolution to ensure that data does not cause problems in your projects next year. Try DataQA for JIRA free for 30 days from the Atlassian Marketplace, no credit card details required.

We have a number of exciting developments planned for 2016. Watch this space!

Happy New Year!