3 min read
BDQ increases Cloud cover with New York office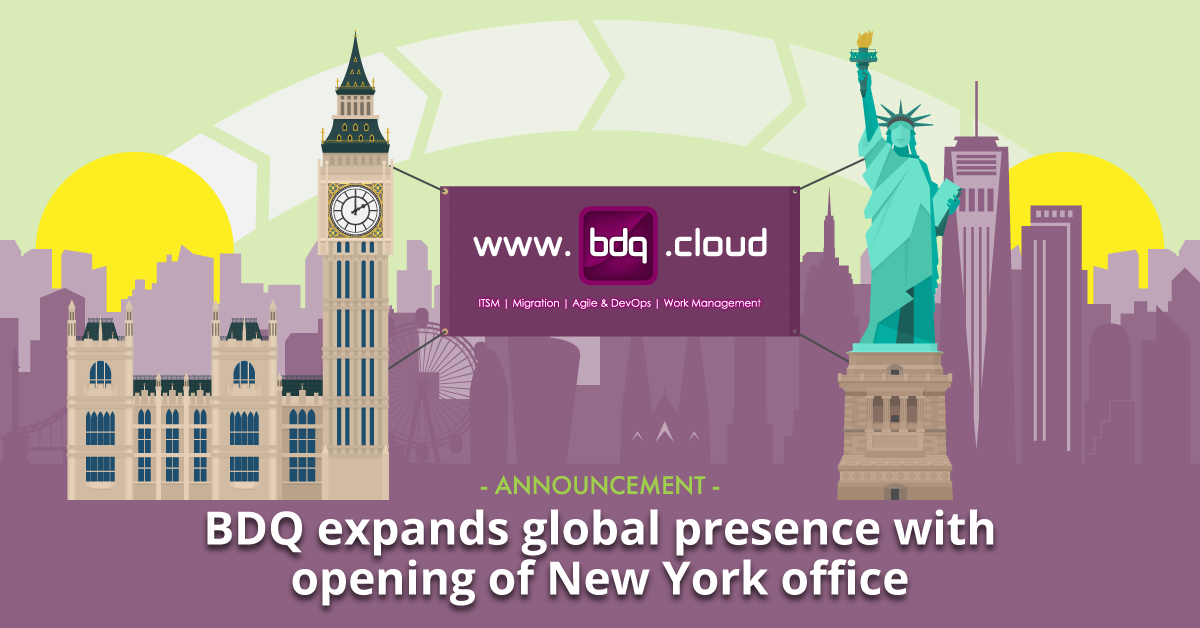 BDQ expands its global presence with the opening of a New York office and welcomes Bradley Hartman as General Manager (BDQ Americas).
New York - 15 August, 2023 - BDQ, specialists in ITSM and work management solutions, is pleased to announce that we are going international by opening an office in New York, USA. BDQ have already provided painless professional digital transformations for thousands of users in our US customers from our home base in London, UK, but now with the opening of a physical office space in the United States, BDQ looks forward to expanding our US customer base and continuing to provide high quality, remote-first products and services from partners such as Atlassian, Asana, Tempo and many more. This strategic expansion marks an important milestone for BDQ, as it extends its presence beyond the United Kingdom and brings its high quality services and support directly to clients in the United States.
The new office in New York will serve as a hub for BDQ's operations, allowing the company to collaborate closely with local clients, partners, and industry leaders. By being closer to our US-based customers, BDQ will enhance its ability to understand their unique requirements, provide tailored solutions, and deliver personalized support, ultimately resulting in improved customer satisfaction.
"Our US customer base has increased in size and complexity, demonstrating the need for our high quality, remote first, services. Additionally, some of our customers have global requirements, with offices in many locations. It was time to open a US office, so we can continue to scale, and provide the level of service that all of our customers need."
Chris Bland

| Co-founder & CEO, BDQ
New
appointment
With the opening of an office in the US, BDQ are also delighted to welcome Bradley Hartman as General Manager to the team. Bradley joins BDQ, adding his more than 20 years of IT experience in 3000+ user environments. He brings a positive, energetic and even-handed approach to BDQ's existing staff of technologists, management consultants and Atlassian certified experts. Bradley is customer centric, always willing to go the extra mile for his client, his organisation and his team. Bradley is a seasoned user of Atlassian products, having implemented them at scale, delivering IT Service Management and Project Management. BDQ is excited to offer the level of enthusiasm, passion, and energy that Bradley will bring to customer engagements, as well as the professionalism, motivation and dedication he has to growing and developing his role in BDQ, and to BDQ on the whole.
"I am excited to join BDQ. In the role of General Manager in the USA, by expanding our reach in the United States Market, we will be able to bring our concierge level of service to our clients. We are spending time understanding their needs and providing quality products and services."
Bradley

Hartman

| General Manager (Americas), BDQ

These dual announcements represent a significant step forward for BDQ, which has seen impressive growth, not only in it's customer base, but also in it's internal staff numbers. BDQ have grown its workforce by over 230% in just the last three years, this incredible growth being necessitated by the increasing number of businesses seeking to migrate their Jira and Confluence instances to the cloud, customers with remote and hybrid workers needing to implement work management, customers looking to improve efficiency and project portfolio management, and the adoption of ITSM and Service Management.

BDQ's commitment to excellence, coupled with its dedication to delivering superior customer experiences, has earned the company a very loyal customer base. With the opening of its New York office, and the recruitment of Bradley Hartman, BDQ aims to replicate this success by forging meaningful partnerships, fostering innovation, and empowering businesses across the United Kingdom, United States and beyond.
END
About BDQ
Founded in 2002, BDQ provides painless, professional digital transformations to Enterprises, Public Sector, nonprofits and mid-market customers in the UK, US and EU. We provide high quality remote-first services with an emphasis on prototyping, fast delivery and adoption.
BDQ partners with companies such as Atlassian, Asana, Tempo, App4Legal, Device42, and others who are focused on providing great work management, collaboration, DevOps and ITSM solutions. BDQ are also Crown Commercial Service suppliers, providing services and software to public sector clients via the UK government Digital Marketplace.
For more information about BDQ and its comprehensive cloud solutions, please visit www.bdq.cloud or contact enquiries@bdq.cloud.